/ by Ton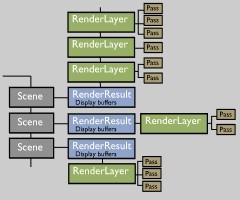 With the DVDs arriving and people trying out the .blend files, it's really about time to have some decent documentation about the Blender development of the past 6 months.
It's still a long way to go… but here's the first result of the tentative 2.42 release log:
Changes since the 2.41 release
Want to have it all finished within a week, so don't disturb me!
-Ton-
« An embarrassing mistake | DVDs ready to go! »
---
25 Responses to "Wrapping up Orange development"
nor

said on 6 May, 2006:




it is really exciting how well blender is developing. i am sure it will have a great future. the feature set seems to be very solid! thank you for the effords



Vassilios Boucer

said on 6 May, 2006:




I have to say….. Blenders Development Speed is Amazing!
…. so Fast you cannot follow the Development (all new Features how works exactly and Learn)!
You learn something New and in the next moment a New Feature Added!
_ Blender must be in the Guinnes Book of Records Category: "Fastest Development Speeeed of a 3D Programm Worldwide"
Thanks AGAIN!:Ton ,BF,OT and all the Coders for this Amazing 3D application!



Silverframe

said on 6 May, 2006:




nice..



Sympodius

said on 6 May, 2006:




Great to see more good stuff coming out of Project Orange :)



Rickyx

said on 6 May, 2006:




I think for most of users Orange is starting NOW!



Big Fan

said on 6 May, 2006:




Thanks Ton.A lot of great work has gone in there in a short time. Will micropolys be incorporated at some point? :o) – yeah we always look forward to more than we have now…
BTW I noticed we don't see transparency and reflection when setting values now in the F5 preview. Perhaps this is not possible now with code change for nodes etc. but I found it a handy indicator in the past.
Maybe it possible to tack on something to give an approx display in these cases?



Mark Hannessen

said on 6 May, 2006:




thanks guys,

just got my dvd shipped.
I haven't really posted much here but I loved the way you kept us up to date with the latest greatest things going on.

I loved the dvd, it might not be pixar and it all way to short but it was all very much worth it ;)

can't believe it's all done now..

I'd love to see more work from you guys, you are really on the right track. if you are ever going to do another open movie i'll surely support you guys again.

thanks!



ME AGAIN

said on 7 May, 2006:




Sounds very nice Ton and usefull. Work is never done right!?

Lookin forward to recieve the Dvd and new Blender rtelease TOO!



Mark Hannessen

said on 7 May, 2006:




don't know if you guys found out, but if you are watching on a computer. try out one the avi's in the orange/hd directory of the dvd. those are of much higher quality. ;)



Chris Gilbert

said on 7 May, 2006:




Anyone in the US recieve their DVD yet?….



Andrew

said on 7 May, 2006:




->Anyone in the US recieve their DVD yet?….

Not yet. And judging by the estimates, I don't think we'll be getting them for another week.



Sympodius

said on 7 May, 2006:




Oooo, I do hope I get mine tomorrow.



Achilles

said on 7 May, 2006:




Seeing blender sparked and eureka moment!!!! Thank you!!!



rafster

said on 8 May, 2006:




I was reading about the new vector blur feature, and am wondering if it is possible to create slow motion from a video, or image sequence.

Would the vector blur node be able to convert 30 frames (1 second playback) to 60 frames (2 second playback) by inserting a new "interpolated" frame between each exsisting frame, thus getting slow motion?

And would it help if the video was shot with a high shutter speed to reduce "real" motion blur, thus getting a cleaner interpolation?



Matt

said on 8 May, 2006:




rafster: No, the vector blur relies on using the speed vector information for each pixel from the render to know where and in which direction to blur the pixels. This information of course isn't available in video footage. I think the technology you're looking for is 'optical flow' – recreating those speed vectors by analysing source footage. This is not what Blender's vector blur does (since the software already knows where the objects are moving in 3D) but there's nothing stopping someone coding a composite node that does just that :)



NnEo0

said on 8 May, 2006:




I only say two words is great
thanks ton for the big job and the orange project, we learn very much for blender now.
Muchas Gracias por el gran trabajo
:)



Terence

said on 8 May, 2006:




Great list of new features, and just an increase from 2.41 to 2.42? What will it take to increase up to release 3?



buergi

said on 9 May, 2006:




Just only wow i can't await the next release (and my DVD of course didn't arrived in south Germany till now but no prob i waited more than half a year so the few days left doesn't matter), damned those features are soooo cool. keep on working.
BLENDER RULEZ!



Goyo de la Brisa

said on 9 May, 2006:




Congratulations on your superb achievement and on beating my project to claim to be the first open source movie.

We are also open source, the movie is in release 1.0 and should be available for download summer 2006.

I am sure that you will agree that this is an exciting way to make movies.



Goyo de la Brisa

said on 9 May, 2006:




For anyone who wants to sign up to the process and be a movie maker there is an open call system at our forum site http://film.forumsplace.com



russose

said on 9 May, 2006:




Hoooaaaaaa!! I hope that all these fantastic improvments will work with our little BlenderPocket ;) I don't know if our PocketPC will continue to survive to Blender!

Thanks for making Blender ever better.

Salvatore



Eltorro

said on 11 May, 2006:




It all looks great! In the section of vector blur it looks like the hand i blurred… but the shadow isn't! I'm not sure though as the shadows below the hand is shown in full…

Gideon



Chris Le Sueur

said on 11 May, 2006:




Wow… Once again Blender astounds us with its speed of progress. From one release to the next, both the ease of use, look of the UI, and the feature-base increases in leaps and bounds.

I would also like to say this:

NODE BASED MATERIALS! HALLEILEUJAH!

I 'grew up' on C4D, and coming to blender was a big shock in terms of UI. After a while, these huge developments start sweeping the project, and with every release I seem to be getting back my tearfully lost features.



Patricia Uma Rawal

said on 23 Jun, 2006:




Sir
I have already purchased your DVD.
Can I use the BLED files Freely in my projects?
I will give the credits to Orange in the last 10 frames of my
movie.
Any thing ELSE i have to do?