/ by Lee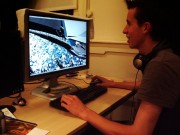 First day of Animatics, nothing more fun then making things without care of detail! I can't help but smile.
Just a quick update on Pre-Production progress =)
After a lot of great outcomes in the concept stage, we have now reached the infamous 'Animatic' stage.
For those who are unfamiliar with the term; An Animatic is generally an animated storyboard, compared to drawn storyboards, they can help show more in terms of timing and movment in a shot (and can be used well in conjuction with drawn storyboards too). The other very helpful aspect is that we can block out a whole scene for example with simple shapes in 3D, and then we add the final props and characters over and delete the placeholders!
Example: (An example from an old Work in Progress from last year, personal project.)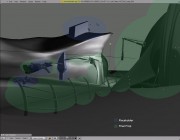 Today we worked out the details of workflow for the Animatic –> Final Image. Some decisions we made were to use the Animatic as a true guideline to the proportions of the final sets, we will make block 3D outlines of the sets, and then use them like a basic trace to help us incorperate the final detailed Props and Characters movment, it will also help us communicate on the scenes we are working on to keep the film consistant visually as we all will be working on different parts of different scenes:
Animatic Level 0 (OpenGL render 'solid')
– Using the animatic to sketch out layout of 3D sets, how they will flow from the one before and after, and finding a medium for general style.
– Basic block dummy's to represent characters used with only sliding motion to show timing of moving from one place to another and various key elements to a shot/scene.
– Possibly very basic prop colouring
– Early tests in camera angles of shots and pre-emtive edit.
Animatic Level 1 (OpenGL render 'shaded')
– Dummy Characters resembling slightly more detailed human form, basic rig and only minimal amount of animation, mostly key poses.
– Maybe some basic colours and lighting.
– More possible changes to camera angles and editing to save on adding detail and rendering too many frames in final
Animatic Level 2 (OpenGL or Rendered)
This more then the others is a grey line (for us this will be using the animatic we make for each scene as a guide for final props etc), we are guessing and lightly planning but we may even skip a step completely in one scene compared to another, art is rarely 100% to plan ;)
– Start adding in detailed props over block placeholders, replace placeholder characters with finished characters.
– Start creating materials, textures.
– Adding more passes to animation detail.
–> Final Renders
As we slip through this phase we'll see how our planning goes and when we reach the end of this stage we'll blog our findings to how it all worked with a team setting!
PS. Being put forth with the responsibility of the Behind the Scenes materials, photo's etc. I am planning something for the next week you may enjoy, so keep on the look out =D
« ROBODOCK!!! | Seashore »
---
23 Responses to "Now its feeling like a movie!"
thoro

said on 26 Sep, 2005:




Hey Lee, I guess you are aware of the fact that this photo is the perfect basis for Wu and other Orang-Goofangs… :-)

I'm really looking forward to see the first animated versions.



Davide

said on 26 Sep, 2005:




can I ask why you use Blender 2.33 for the animatics and not blender 2.37a or the cvs version?



Jiri Hnidek

said on 26 Sep, 2005:




Blender 2.33 ? :-)



Davide

said on 26 Sep, 2005:




Jiri: if you check the example image you will see it's blendeer 2.33



SimonK

said on 27 Sep, 2005:




Just wondering if you'll be doing any 2D storyboards, or will it all be done via the Animatic 0 format as a starting point?

What is the estimate final running time of the movie?



polux

said on 27 Sep, 2005:




Looks very promising, can't wait for the trailer :)



Matthew N

said on 27 Sep, 2005:




Looks Awsome, Keep up the good work!



Dittohead

said on 27 Sep, 2005:




Hmm, 2.33 is in the image…any particular reason why it's being used?



Lee

said on 27 Sep, 2005:




Don't panic! ;) The example is my own work from a year ago, simply showing this process used, ofcourse in this project it is being used in a team setting, but the method is almost the same. There is no way 2.33 is being used in any of the production, we're here to push blender further not backwards ;)

So hope i didnt cause any heart attacks, maybe ill edit and explain that picture. The photo at the top of the post is using CVS Blender though, it is a present day image =D

SimonK: we have already done some small parts of storyboarding, really we used it more in a setting of planning then true pre-production. It helped us get an idea early on, and im sure they may come in handy still now as we do Animatics =)

As for the length of the final film, we are not sure on how long the exact final edit will be, but we are guessing something close to 10 minutes =)



joeri

said on 27 Sep, 2005:




Lee: always have a template ready with blender 3.00 in the header ;) With a nice gradient instead of solid color?…

wouldn't it be nice if you could assign dummy colors to the objects? Blue for placeholder and green for final… The director could go in the file and make some objects red…



Jerry Coopert

said on 27 Sep, 2005:




Lee quote: "As for the length of the final film, we are not sure on how long the exact final edit will be, but we are guessing something close to 10 minutes"

Great explanation of the animatic-workflow Lee! I take this quote here in order to make one small question: you have already decided with which program you will make the final editing video/audio?

Maybe Cinelerra?

Good Work!;-)



Lee

said on 27 Sep, 2005:




Blender will be used! =D



Enrique

said on 28 Sep, 2005:




Why would I mess with a photo of him working..hehe Its all in good fun. BTW its about time you guys got to work wink wink…



levon

said on 28 Sep, 2005:




great work Lee :D keep it up

afaik the blender sequencer is going to be getting a fair amount of improvments over then next few months, making it alot more useable for editing media.



Brian

said on 28 Sep, 2005:




Hope the sequencer will get RPF support. Would be nice to import external data from other software.



Juan Javier Martínez

said on 28 Sep, 2005:




Lee, as Jerry Coopert says and I asked two threads ago, many of us are interested to know which software will you use for final audio/video editing…..Cinelerra, perhaps?

Greetings,
JuanJavier.



Brian

said on 28 Sep, 2005:




I believe they answered. "Blender will be used! =D " and "afaik the blender sequencer is going to be getting a fair amount of improvments over then next few months, making it alot more useable for editing media. "



Lee

said on 28 Sep, 2005:




Juan: sorry it was a bit confusing for you! Yes as Brian and Levon stated just before me there are plans to add in some extras for the Blender Sequencer to make it possible for such things as advanced editing video/audio, compositing features and more. =)

If theres any feature you hope for just head to the Blender.org forums and pitch your idea =D



Jerry Coopert

said on 28 Sep, 2005:




If Blender will be the editor tool for the final Audio and Video cuts, this is a very great news !!

I'll add some idea to the forum features-request, thanks for sharing! ;-)

Cheers,



JuanJavier

said on 28 Sep, 2005:




[quote from Jerry Coopert]
"If Blender will be the editor tool for the final Audio and Video cuts, this is a very great news !!"

—Good news….even terrific!!! Fantastic.

[quote from Brian]
"I believe they answered. "Blender will be used! =D " and "afaik the blender sequencer is going to be getting a fair amount of improvments over then next few months, making it alot more useable for editing media. "

—-Ouch!!! Uuups…Sorry, I misread…promise not to crash again :-P XD Thanks, Brian.

Cheers,
Juan



Bart Robinson

said on 1 Oct, 2005:




I wonder if they could be talked into combining the OOPS view (scene graph) and the video sequencer into a node based compositor….



wu

said on 6 Oct, 2005:




Lee Wrote:
"Being put forth with the responsibility of the Behind the Scenes materials, photo's etc."

so where are the new pictures brother? haha, if you are taking requests, some good shots of people looking into the cammera would be cool, and more good shots of ton in the famous jacket of his would be awsome!

keep up the great work guys. and i look forward to the new photos!! mmmmuuuuuuuuuuhahahahhhahahahaha!



Olm.e

said on 10 Oct, 2005:




yes please more info on that strange but wonderfull idea to use blender as editing software … !!!

will you use 3d plane/surfaces with video/media texture as basis ? In a way, with good interface hack it should be possible already to do someting like that … ???

what about sound mixing/synching ??

(but all that are another topic … hum .. :p )