/ by Ton
I did an interview yesterday with a journalist from "Het Financieele Dagblad", let's say the Dutch version of the Financial Times, and to our surprise they put it on the frontpage, right under a message of mr Bush! :)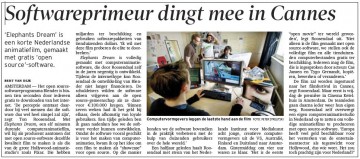 Usually I never read newspaper reviews of Blender or interviews with myself, so can't really say what the article is about. But the headline means "Software premiere in Cannes competition", which was just a side remark of me during a 90 minute interview. We're not accepted yet, just submitted the movie! :)
Also got the message that our Dutch movie star Tygo Gernandt will be at the premiere. Cas Jansen can't make it, he's on a long holiday trip in Asia.
Further we've finished the movie! Yes? Eh… no, still waiting for the final sound edit! Eeek!
-Ton-
« Premiere + after party: SOLD OUT! | Important Premiere update »
---
43 Responses to "Frontpage news of Dutch Financial Newspaper"
Holger

said on 22 Mar, 2006:




Hi,

I wish you the best for your premir on Friday!

Kind Regards
Holger



B@rt

said on 22 Mar, 2006:




You guys are so cool, it makes me want to cry :)

Have fun,

B@rt



Ortiz

said on 22 Mar, 2006:




Wow thats great! I guess… I hope none of this Dutch Banks buy Blender right now :)) (Ofering one miLHON DOLLARS!… no wait… ONE BILLION DOLLARS!!!)

Sadly iam not speaking Dutch this times… So i didn't get much of the news report… In fact i just get the words wroten in English… i do no why… my Dutch uses to be so good…



Christian

said on 22 Mar, 2006:




Congrats Ton! So well deserved! Big WOOHOO for all those involved!
And if all goes well, I'll see you Friday evening. :)
Christian.



Pitel

said on 22 Mar, 2006:




Can someone make english trnaslation?
P.S. I'm looking for friday :)



Oh, the Netherlands

said on 22 Mar, 2006:




The fascist little swamp where they force Muslim immigrants to watch educational videos if they want to stay. Charming. Maybe they can use Blender to make the videos more fun. Think about it.



Crouch

said on 22 Mar, 2006:




Here is a translation:

Software premiere in Cannes competition

'Elephants Dream' is a short Dutch animation movie, made with free open-source software.

Bert van Dijk
AMSTERDAM – The open-source software program Blender can be downloaded from the internet by anyone within 10 seconds. 'This creates the perception for a lot of people that this will therefore be some very simple software', says Ton Roosendaal. With Elephants Dream, an eleven minute long computer animation, he wants to prove as a producer that it's possible with open-source software to create the same quality of movie as the one from the big Hollywood animation studios like Pixar. They've got billions at their disposal and use software packages worth tens of thousands of dollars. 'With this movie I want to try to break the elitism.'
Elephants Dream is completely made with computer animation-software, created by Roosendaal himself in the nineties. During the internet hype Roosendaal wasn't able to finance the development of Blender any longer. The creditors only wanted to give the software to the open-source community if they'd get € 100,000. 'Within seven weeks I'd gathered the money, partially originating from loyal users. Some time ago I started thinking on how we could further develop the software. Because the software is especially suited for creating computer animations, I came to the idea of creating a movie as "showcase" for open-source. Moreover, in that way we could improve the software in practice with the help of thousands of users from all over the world.'
Half a year ago Roosendaal got eight young, creative computer illustrators from the USA, Australia, Finland and Germany to Amsterdam with the support of the Dutch Instituut voor Mediakunst (Institute for Media art). Yesterday afternoon at four o'clock they were finished. 'It's become the first "open movie" in the world', explains Roosendaal. 'Not only the movie is made with open-source software, we also make the full movie and all the tens of thousands of computer files available for free. Everyone may copy, edit or change the movie, for which the voice acting was done by actors Cas Jansen and Tygo Gernandt.'
The movie will be submitted to the Cannes filmfestival, says Roosendaal. But first there will be the premiere this Friday in Cinema Ketelhuis in Amsterdam. After this the team members will all go their own way. Roosendaal himself considers setting up his own computer animation studios in the Netherlands, to create animation films with open-source software. 'Europe has a lot of money available to strengthen the entertainment sector as counterweight to Hollywood, so who knows? It would be splendid for the Netherlands, wouldn't it?'



Morris

said on 22 Mar, 2006:




Any word on when DVDs ship? Just kidding :) I'm expecting at least 2 weeks, and go ahead and take up to 3 weeks if necessary to get just the right content. But I think it will be the longest 3 weeks of my life! (well 4 weeks if counting mail time)

I get a warm fuzzy feeling when I think that I helped Project Orange a little (bought the DVD before any cool screen shot, and translated script to Spanish).

DOES THE WORLD KNOW? Is the World Ready? Is Autodesk/Hollywood scared? Ready or not, Here comes……..ELEPHANTS DREAM!!!!!

Hurray Hurray [applause]……[standing ovation]…



JD-Multi

said on 22 Mar, 2006:




Really cool that Blender made the newspaper as well. When I told a teacher about this project he was like. Yeah sure, and I eat clay with musterd.
Anyways, I'm really looking towards Friday to view the premiere. Too bad I spend already a bunch of money on another things and that the general transport is crap when you life somewhere in the unknown. So I can't join the aftherparty, but I'll see that movie for sure, I only need to find a good reason to actually skip some lessons, but that won't be a big deal.

I'm really excited about Elephants Dream, I can't wait to see that movie.



way to go!

said on 22 Mar, 2006:




hi,

i am so proud of you ;-)
just cant sit still till i can have a look at the movie. this is really a show-off to commercial giants…

really, really good job! give it to `em!



Joeri

said on 22 Mar, 2006:




??? So where does Pixar buy their software of $10.000?



Toni

said on 22 Mar, 2006:




joeri, you should know that newspapers are not about facts!



Hans 'Martian'

said on 22 Mar, 2006:




Have fun all of you, please enjoy the movie and have a thought for all the others that cant make it. I live far away in the middle of the Indian Ocean and this is a rare time that I really wish I had enough money to travel to Europe and be part of the crowd that will greet this film. Like someone said, the next few weeks will be very looonnng until we get the dvds. Next time it should be a worldwide premiere with small groups downloading the film at the same time across the globe…just an idea…anyway, enjoy!



Tom Musgrove

said on 22 Mar, 2006:




Joeri,

heheh – maybe they calculated the per seat cost of developing the animation software they use in house :)

Actually a full seat of Houdini Master is 17,000$ US, so is probably 20,000$ US in Europe due to VAT

http://www.sidefx.com/index.php?option=com_content&task=view&id=385&Itemid=190

LetterRip



greg

said on 22 Mar, 2006:




hi there…good luck for the premiere, wish i could be there..



PolygoneUK

said on 22 Mar, 2006:




Joeri said on 22 Mar, 2006:
"??? So where does Pixar buy their software of $10.000?"

The article (or at least the translation) doesn't say Pixar buys software for the amount stated. Only that they use software 'worth' tens of thousands. It's quite possible that whilst they don't buy it for $10,000, their in-house proprietary tools could be considered as being worth $10,000 or more. I mean XSI's Face Robot is $90,000 and/or at least $15,000 per animator seat.

Back on topic though, congrats to the Project Orange team for making frontpage news in any language or country that considers it worthy. Personally I do think it's worth a frontpage article. 'Elephants Dream' will be quite innovative in showing studios and the public that spending buckets of cash needn't always be the route to producing decent animation with less commercial tools than larger studios.

Good luck with the premiere Project Orange :D



etr9j

said on 22 Mar, 2006:




Are you going to submit to other film festivals? If so, I hope Elephants Dream sweeps over the film festivals of the world to show everyone what Blender can do!



Tim Blokdijk

said on 22 Mar, 2006:




Great I'm going to buy the paper now :-)

Ton btw I don't know if I can ask it this way but I'm not getting any response when I try to claim a reservation for a friend via [email protected]?
Would really like to get her a seat for the second screening as she helped me out with a place to stay in A'dam.



Ton

said on 22 Mar, 2006:




Joeri; that's why I never read back interviews… I've never said that I want to 'break the elitism'. Nor mentioned 'tens of thousands of dollars'. And there I've stopped reading now. Another journalist I spoke tried the same tricks, they seem to like the idea of a little cheap dutch initiative challenging Hollywood or so. And although I won't deny that it's fun to challenge Hollywood, it is certainly not what Orange is about. :)

Tim: I already got complaints from others… seems there's a backlog in mail handling. Will ask them tomorrow morning to reply everyone.

Also note that the movie will be screened sat/sun, every hour, in montevideo. Then you also have time to talk with the makers. But we cannot screen in it glorious HD and 5.1 surround there… :)



Toni

said on 23 Mar, 2006:




Hans 'Martian', you say you are in the middle of the Indian Ocean? i guess not on the Amsterdam island, tho? i find it a most amazing place (have not visited tho), and quite exactly in the middle .. roughly the same distance to Africa, India, Australia and the Antarctica :)

http://jygeorges.free.fr/english/ams01.html

~Toni



Tim Blokdijk

said on 23 Mar, 2006:




Thanks Ton!
And the sat/sun hourly screening is noted, but I think it's more fun to take the girl to the grand "Premiere" :-)

And Toni, I never knew about that Amsterdam.. all the things you learn around here… :-D

Btw, congratulations on finishing the movie!



Henno

said on 23 Mar, 2006:




Hey,

Great job guys, all the best and goodluck with the primiere.



Ninja buddy

said on 23 Mar, 2006:




That is so cool!



Jim

said on 23 Mar, 2006:




I wish you guys the best – this project will surely be an inspiration to many.



Joeri

said on 23 Mar, 2006:




Ton: :) Yes, It's always when reading articles I know something about one start to wondering about the articles I don't. One more day to go…



Epsilorn

said on 23 Mar, 2006:




Yay!!!! Good luck for tonight!!! I'm waiting for the DVDs!!! Send it to me now!! NOW I SAID!!!!

ok…i'll calm!!!

Congratulations for this great project coming to an end!!!



Reno

said on 23 Mar, 2006:




Sinds when is the film just 11 minutes??????



Ton

said on 23 Mar, 2006:




Reno; we would have been happy with 6 minutes too! Can't expect 5 artists to make a feature film in half a year.

Tim and others: Montevideo solved an error in their email delivery, all applicants for the 2nd screening should have received a reply now.
There's about 30 reservations for now, so nobody will be rejected.



Andy

said on 23 Mar, 2006:




the movie is ONLY 11 minutes?????????????????

no… no way…

i DEMAND MY MONEY BACK NOW!!!!
what the hell did you slackers do in the last 7 months???



Eckhart

said on 23 Mar, 2006:




To Andy:
"The result of this project will be a short movie".
A short movie is mainly called a short movie because it's short.
E.g. at Berlin International Film Festival a movie for category "short movie" in the main competition is only accepted if it does not exceed 15 minutes.



Carsten

said on 23 Mar, 2006:




@Andy ;D

I suppose they wasted their time with spamming a stupid blog… i bet we can all see this in the "making of", so perhaps you better wait demanding your money back till you´ve seen the evidences



Carsten

said on 23 Mar, 2006:




:D



levon

said on 23 Mar, 2006:




i agree with Andy… that art director must have been fairly slack ;)

cant wait to see the film on DVD when it comes out, Lee and Matt, have a drink for me :) (go aussies!!!)



Linz

said on 23 Mar, 2006:




Although I'm sure (or I hope) Andy's joking about the length and time taken I can't help but get a bit angry at all these types of comments here and on Elysiun. The whole debate about the 'value' of the DVD and the length of the short etc. has been played out a million times, but nobody seems to mention some of the past short projects that the big developers have produced.

Alias produced some great shorts in the same vein as the Orange project, having a producer push the development of the software for the technology they wanted to see in their film and the technical guys getting to test new features in the hands of artists. The End and Bingo, produced by Chris Landreth, really pushed Alias' development and drew attention to their technology as well as showing festival audiences just what could be done with CG. I remember seeing endless teaser shots back then and the development time was just as long as the Orange project…and at that time we had to pay big bucks to reap the benefits of the technology they helped create!

Pixar's shorts are generally only a few minutes long, but they too are designed to push the development of new technologies and showcase the software/studio's abilities. Geri's game had a huge team working on it but it was less than 5 minutes. http://www.awn.com/oscars98/gerisgame.html

My point is that I think the guys at Orange have done a fantastic job and the project 'model' has worked perfectly, just as it does for the 'big' developers.



benstabler

said on 23 Mar, 2006:




…and I sure hope you guys are joking about whether @ndy is joking :D



Linz

said on 23 Mar, 2006:




LOL, yeah, should've put a :-p, or a ;-) after talking about Andy…that's why I said I hoped he was joking :D He just reminded me that some poeple don't realise what a professional job he and the others are doing.

:-)



Heleen

said on 23 Mar, 2006:




Hey! I've read the article in the newspaper, and that's how I knew about this movie and how I got here. I think it's a very interesting move for the open source software. I'm hoping to get to see the movie soon, because I'm a big fan of 3d art/movies and I'm very curious. Also, I'm hoping to learn a bit more about Blender next summer. Anyway, I wish you good luck with the movie and Blender in the future!



Toni

said on 23 Mar, 2006:




nice to hear, Heleen, that the article was not wasted :)

hopefully you will have fun with Blender (after all the beginning difficulties…) when have the time!



Timothy Baldridge

said on 24 Mar, 2006:




I think of it this way. ~$40 for all the features added to blender the past few months. Ummm, Yes!

I't allways astounds me how guys can give stuff away, and all is well, but the moment you start asking to be paid for your work. People start whining.



Ill never tell

said on 24 Mar, 2006:




Andy,

[QUOTE]the movie is ONLY 11 minutes?????????????????

no… no way…

i DEMAND MY MONEY BACK NOW!!!!
what the hell did you slackers do in the last 7 months??? [/QUOTE]

probably drank beer and spent all of their money on the Red Light District. I bet it was a scam to bilk all of the free software users out of their hard earned money, fat chance getting your money back now Sucka's! Ton is probably running off to buy a desert island with the mad cash made from the DVD :)

(For those who don't know Andy == @ndy, one of the artists for Orange, and thus one of the 'slackers' for the past 7 months – he was parodying some of the comments made at elysiun… )

I'll never tell



Roger

said on 24 Mar, 2006:




Fantastic news that we (and I use that term loosely) are getting the press we deserve. Public software should be free, and Blender, and all that Ton has made it, is capable in the hands of experienced artists. I feel part of the experience, through my long nights and meager financial contribs, and THAT is what Open is all about. A world-wide community. Congrats again, Orange Team!!!!!

Oh, and Ton, there's a small island in the Turks and Caicos island chain that is for sale, cheap. Might want to look into now before you have to pay for all those blank DVD's…it is near Aruba, which is Dutch-owned as well, so you'd be right at home when you skip out to the Carribean…



Govert Combée

said on 30 Mar, 2006:




Hmmz, now I don't know about journalists being truthfull any time…but eeh… am I seeing this right that there *might* be a full time animation studio started by Ton?



parol

said on 4 Apr, 2006:




Kjempe kuuuul hjemmeside du har.