/ by Matt
Well it's been a crazy week leading up to it, but last night at the Blender Conference animation festival, we showed our teaser for the first time. Without further ado, here it is for your enjoyment!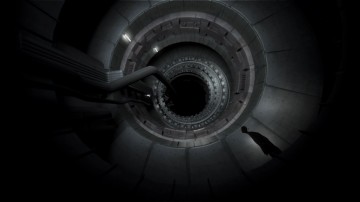 30MB MPEG4 (BitTorrent)
30MB MPEG4 (blendertestbuilds.de)
Update Oct 17: Here are some other mirrors and compressed versions made by the community!
24MB MPEG (BitTorrent)
« The Ever Shrinking Orange Wishlist | Blender Conference streaming video »
---
147 Responses to "Elephants Dream teaser"
intrr

said on 18 Oct, 2005:




Jan: I can't believe you're working at 21 ms latency, that sounds totally horrible and unworkable to me.

I'm working at 6 ms latency, and I can barely stand it. Especially if I play external synths (which are obviously routed through software), the latency becomes very bad.

I'm trying to push the latency down to 3 ms, while others are happily working at 21 ms… I have too high expectations :)



jan

said on 18 Oct, 2005:




> I'm trying to push the latency down to 3 ms, while others are
> happily working at 21 ms… I have too high expectations :)

For the record, I never said I'm working at it yet :) 21ms is pretty much unacceptable when it comes to recording, but since this value would have only applied to my second EWQLSO host and it doesn't really matter in playback, I would have been able to cope with it (you can always use proxy instruments for recording).
That being said, I'm pretty new to the Audio-over-LAN stuff and expected better performance. In fact, after the Wormhole2 connection turned out to be unreliable even at this buffer size, today I ditched the whole thing for now in favour of going back to ADAT connections, which I can get down to 5ms @ 48kHz in most cases. Oh well, you get what you pay for. ;)



Hoot

said on 18 Oct, 2005:




Thats awsome!!! I am amazed



Epsilorn

said on 19 Oct, 2005:




If I can add something as a constructive critic, i think the face of the character is a bit "generic", i mean it lacks personality.
Don't know if it's only cause of missing textures and hair but it doesn't seem having preminent features giving him incisivity.
My two cents.



LuthiAir

said on 19 Oct, 2005:




I'm sold completely. Soon as I get some money I'm buying the DVD. Incredible. The artworks is first rate, the animation awesome and the soundtrack is way cool.



Danni Coy

said on 19 Oct, 2005:




Looking very nice concidering the amount of time put in – reminds me quite a bit of lots of robots so far.

File worked fine for me (Xine)

The sound stuff posted is interesting. I am currently learning Ardour and having reasonable success using external midi programs… Still I have some ways to go yet



Myster_EE

said on 19 Oct, 2005:




Speaking of Music Software, Jan-

What do you think of FL Studio? (I know it's not OpenSource, but it's fairly cheap…)



Durden

said on 19 Oct, 2005:




Hmmm… i've got some kind of problem with downloading the trailer =||| Nothing happens when i'm click the link or just select the "Save Object As" option…

torrent – is it some kind of download client???



intrr

said on 19 Oct, 2005:




Jan:
I once tried this audio-over-lan stuff too, with a thing called "FX Teleport", which could run VST Plugins as a *host* on a "server" computer, and the "client" would be your sequencer with a special plugin which exchanges the data over lan and acts as if it were the "real" VST plugin (but in reality it only sends and receives the data from the actual plugin running on the server).

That was pretty interesting, I used it for moving my 3 main reverbs to a different computer.

The latency over the LAN connection was around 6 *additional* ms though, and thus the reverbs sounded different, and some reverbs were just not achievable due to the ER coming too late – but it's an interesting thing anyway :)



jan

said on 19 Oct, 2005:




intrr: Yeah, I tried FXT aswell, but it's a bit impractical for my setup as there is no Mac port, and having PC1 act as an FXT host to move the streams from PC2 over to the Mac is a rather pointless exercise. Anyway, regarding the case you described, what kind of DAW are you using? Most of them have latency compensation throughout their signal path nowadays, so you might be able to get the reverbs synced in mixing.



jan

said on 19 Oct, 2005:




Myster_EE: Sorry, I have never tried FL studio myself. But I heard it's quite cool for the money, similar to Reason.



Rui Campos

said on 19 Oct, 2005:




I already said this at the Conference, but anyway will post it here.

Good work guys, if you manage to have the time to complete it as you invisioned it, it will be amazing.

Any help, just say something :) .

Cheers, RCAS .



Marmottaninja

said on 19 Oct, 2005:




(If you want to play a mpeg4 file you can download VLC media player, it works!)



Umbroth

said on 19 Oct, 2005:




Hi Bassam and Orange Team,

We waiting for the makingof. Realy great job and nice 3 days at the conference.

Marc & Serge



intrr

said on 20 Oct, 2005:




Jan: When I tried FXT, I was still using Nuendo, and I intentionally turned PDC off *only* for the FXT plugin. The reason is that obviously, the host will (must) use the 'slowest' plugin as reference delay, so just the fact that I moved some of my effects to a different computer meant that I had to deal with 21 ms (instead of 6 ms) latency *everywhere*.

So I preferred to turn PDC off for that plugin, have the reverb 'lag behind' a bit (well, some reverbs do that anyway, especially big rooms :), and tried to live with the bigger rooms ;-)

Nowadays, I'm using Logic Platinum 5.5.1 (which – for me – is the Blender of audio), and I would never return to Nuendo.



Extensor

said on 20 Oct, 2005:




Yeah, what #115 said!
And on another note…
I eagerly await your next update… it;s been 5 days, i need my Orange juice. :P



Carsten

said on 20 Oct, 2005:




Hi!

Great mood in this trailer… i love the look&style of it. For a "quick shot" it´s really impressing.. i´m looking forward to get my (already bought) copy of the DVD..

And i like the music! (Jan, and it´s great to know it´s a german Logicuser who is responsible for the score.. i am a logicuser too… do you know the .de website with same name?)

keep up the good work! Orange rules…



jan

said on 20 Oct, 2005:




Carsten: Yes, I know it! :)



Juan Javier Martínez

said on 21 Oct, 2005:




Hey, Matt, Basse, core team in general: Are you editing and doing post-production in Blender, isn't it?

Under what platform? Is it linux? If so, is it Debian?

I am having horrible issues with sound within the Blender sequencer under all Debians and window managers: so far I tested BlackBox, Gnome and KDE: Sound gets imported, but refuses to sound within the sequencer.

How do you manage? Could anybody help?

Thanks,
Juan.



Bassam

said on 21 Oct, 2005:




Juan: It's probably because some other application is using the sound, and sound mixing is not present/enabled in your hardware/software
we have the same issue currently w/ our current workstations (onboard sound) and blender.
We'll probably get some emu10k1 based soundcards, they've got hardware mixing that works in linux (I think) no need to depend on a sound server for that.
Of course, I'm only guessing as to the cause.. does sound work for other applications? does blender print something when it doesn't play the sound? is the sound format correct (Blender only plays 16bit wavs afaik).. those are other good questions.



Juan

said on 21 Oct, 2005:




Bassam: I appreciate how fast you tried to help.

I am almost desperate. I will be clearer:

Every sound application is closed. I have got alsa up and running, as well as alsa-mixer gui: the desktop mixer for alsa.

I know Blender only accepts uncompressed pcm wav at 16 bits wide: that is what I am feeding blender with.

The full message from the console is
"ALSA lib pcm_dmix.c:802:(snd_pcm_dmix_open) unable to open slave
Couldn't open audio: No available audio device"

Here

http://www.elysiun.com/forum/viewtopic.php?t=52896

you get the full story.

So you tell me you are having the same issue with you blender-linux workstations?

I would be pleased if you tell me how are you all going to solve it. My own project -very based upon the Orange spirit- is in the works, and I was planning to release a teaser soon in my own web. But I will have to solve this stuff first…

It is becoming a true nightmare for me. I don't get where the fail is. And since orange is being a strong inspiration source for my work (as I told), I talk to you core team for advice.

Thanks, Bassam.
Plz, let me know your tips on this.

An Orange friend,
Juan.

Madrid, Spain.



jan

said on 21 Oct, 2005:




Juan, do you happen to run KDE or some other environment that might have a sound daemon running in the background (artsd, in KDE's case)? If so, could this be blocking your device?



Juan Javier Martínez

said on 21 Oct, 2005:




Cheers, Orangers (I love you all)!!

—Got issue solved. Hope it helps to you too, since Bassam told you were encountering similar issues with your linux workstations.

—Simply run blender from console with the option -g noaudio.

The sound game engine is the f*c**ng guilty. It is all explained in detail here

http://projects.blender.org/tracker/index.php?func=detail&aid=1474&group_id=9&atid=264

BTW: Which flavour of linux are you using for the film? I am using Debian GNU Sarge (stable), Sid (unstable) and Testing.

A huge hug,

Juan.
Madrid (Spain)



basse

said on 22 Oct, 2005:




nice to know that there is someone loving us all, but might cause some jealousness issues at the studio.

on the linux boxes we are using ubuntu linux. one hoary (updating soon), and two breezys. we are running 32 bit system, except bassam, who has sort of weirdo dual 64 and 32 bit system. (makes him feel more like a real director I suppose, so we let him have it)

and to be honest.. I kind of enjoy ubuntu. almost like debian, but more fancy thingys.

.b



INU.ID

said on 6 Jan, 2006:




WOW

Mehr mehr mehr :D

Ich hoffe der ist bald fertig, ich kanns kaum erwarten.



Nathan Letwory

said on 22 Jan, 2006:




Updated torrent link: http://letwory.net:6969/torrents/838187a14586849ed28a9ab59eabb145359fab03.torrent



Ana Isabel Pereira

said on 16 Mar, 2006:




Que buena pinta, estoy deseando ver algo más !!!

Saludos.



plue

said on 21 Mar, 2006:




Uploaded into youtube
http://www.youtube.com/watch?v=siHdLOelZZg

From the ogm reencoded.



krass

said on 27 Mar, 2006:




hi, can someone offer a divx or so? or normal mpeg? i tried many players now, still missing something. have no torrent yet… what is it?



Toolskyn

said on 27 Mar, 2006:




Great teaser! I love it!



Renko

said on 28 Mar, 2006:




Very cool teaser :)
Keep it up the good work, I really want to see the first professional open source movie. ;)



benni

said on 22 Apr, 2006:




wow,it looks incredible.
im just started to learn blender on the mac.
the power of a open cours and the people behind it is great.
lots of respect
benni
belgium



blud

said on 18 May, 2006:




Hi Guys!! did marijuana help U to create this movie??? Anyway, I say you congratulations!! Even if I didn't again see your movie but just because U are the first to make an open movie with an open soft… Keep enjoying.. "Amsterdam est la terre d'accueil de beaucoup de francais en manque de shits, c'est bon de savoir que ca l'est aussi pour de bonnes causes" Bye..



oskar

said on 20 May, 2006:




Excellent work. Love the idea! This got me started with Blender. But i cant get the project files to work :/ they render funny.



paulo

said on 18 Jul, 2006:




Eu não sou da área de design gráfico 3d mas o que me chamou muito a atenção é o fato dessa nova versão ter surgido em conseqüência do desenvolvimento do Elephants Dream, primeiro filme de "código livre" do mundo .