/ by Matt
We've now finished our first 'real' week in pre-production, working on concept design. Everyone's been either working on either tests or sketching, leaving us with a big heap of drawings, which will become an even bigger heap as pre-production continues.
The main challenge has been to narrow down and concentrate our visions of what our characters and the machine can be. Everyone's got a lot of great ideas, but it's a difficult process to go through these and figure out what will work in context. The characters need to be distinctive and visually communicate aspects of their personality, but they also need some stylistic consistency between them and the machine to make a coherent visual result. Especially while the script is still in development, it's been tricky trying to bring together how each of us pictures the characters in our mind, let alone in a sketch or eventually 3D model.
We've had some interesting group sessions sitting around the table, going through our sketches and ideas, talking over repeated cups of coffee and the good news is that we've now narrowed down to a general consensus for what we want, with some final candidate designs that we're going with to develop further. Since what we've done so far has been a real collaborative effort, there's a small gotcha in that while we're really happy with what we have so far, the designs have perhaps lost some of their charm after everyone has had their input. Now that we have these revision 1 sketches that give us a good direction to proceed in, we've separated the tasks out so that a some of us have a character each to work on and take responsibility for. This will give us an opportunity to really push things further and inject more of an individual personality in to these guys!
For something different, we also got a hold of some great modelling clay that may be useful soon when we are close to a final design that we can 'set in stone' (har har). But for now, we've had some fun getting used to it and experimenting with some real life knife tools and booleans! :)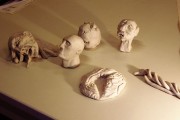 During the next week, those without characters to push forward on will be doing scenario development and starting some shot breakdowns. Then once we have a better idea of what scenes we will have and what they will involve, we can push a bit further on environment designs too, in order to try and come up with some pretty conclusive designs by the end of the week that we can use while storyboarding. Stay tuned!
« Media gallery update | Generating Shapes with Animatable Curves »
---
5 Responses to "Concept design week!"
JoOngle

said on 18 Sep, 2005:




Looks like you guys had a jolly-fun drawing session ;)



Blazer003

said on 18 Sep, 2005:




Looking good with the designs and character modeling (in clay no less!) I can't wait till I am someday part of a project of this magnitude.



Reno

said on 19 Sep, 2005:




Real nice drawing`s and model`s in clay.
Hope you all can handel Blender just as good.

Only one thing,hire some one to clean in there.
Please do not do it yourselves any more:)))



Marty_D

said on 19 Sep, 2005:




Of course story has a large impact on character design. Are you aiming for an Aeon Flux / darker @ndy environment or a Tripping the Rift / Pixar world? I'd guess there'll be a lot Euro influence there too. :) Since this is the first picture made by the studio who can say which way Orange will go.

Looks like everyone's having a lot of fun. The open forum is great. Really appreciate the opportunity to participate too.



David Rodriguez

said on 19 Sep, 2005:




Good work men!