/ by Matt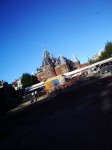 The 2005 Blender Conference has come and gone, and while it was immensely tiring, it was a heck of a lot of fun. The presentations were very interesting, but like last year, the best part was the wonderful sense of community, meeting the other blenderheads from all around the globe and making contacts and friendships that are far more than what you can ever have online. Joeri Kassenaar is currently in the process of digitising videos of all the presentations, and I've uploaded some of the photos I took to the Media Gallery, but you can read on for a quick list of my personal highlights.
* The Orange team started the conference in an excited but pretty exhausted state, after working incredible hours (3am, 4am, 6am!) in order to finish the Elephants Dream teaser for screening on Friday night (and one of us *cough* spending much more time than healthy on the conference booklet). Of course, to earn our keep we also spent the conference taking shifts in working at the front desk, picking up garbage, cleaning toilets and making sandwiches (not directly in that order!)
* The Mixing Virtuality and Reality session by Paul Grimm was very interesting, showing how to do augmented reality in Blender, using off-the-shelf hardware and free software. This is an area largely unexplored in artistic contexts, and I'd love to give it a try some day.
* Joeri showed some great historical relics with his excerpts from the upcoming Ten Years of Blender DVD. Seeing the video that the Neo Geo (or was it Not a Number?) employees made for Joeri's wedding nearly brought a tear to my eye – it really gave the impression that this is an application born of love.
* The Art Festival screening was lots of fun, a diverse range of work, some polished, some raw, some serene, some insane, and all in all full of character.
* Our Elephants Dream teaser screening was exciting and frustrating at the same time. Although we'd quickly tried to test it earlier, the projector just couldn't handle the range of brightness we needed and it ended up very dark, hiding much of the animation and graphics that we'd slaved over for many nights. At least the web version is ok!
* We had a great session with all the developers we could find, describing and explaining the feature requests for our project. We've published most of the list here on our blog, so if any developer is interested in helping out, we'd be very appreciative!
* Our Artist Tutorials session on Saturday was lots of quickly improvised fun, with Bassam showing off some great tricks with the new animation features (as usual), myself admiring some sexy curves, and Andy going from zero to hero in just an hour.
* The 'official' dinner at the A-Fusion restaurant was fun as usual. Ton did his trademark table hopping, chatting with guests, and lots of great conversations were had over dinner and beer. Of course some people couldn't help pulling out laptops to help demonstrate their points.
* The session with Marc and Serge Ume from Digital Graphics in Belgium was amazing, showing off their fantastic VFX work on the feature film Friday or Another Day, all made in Blender. Though I winced in agony seeing what horrible workarounds they had to do when using the sequence editor – hopefully the upcoming coding work for Orange will help solve some of their workflow problems in this area!
* The traditional post-Sunday outing to Cafe Cuba was great fun, and gave me a good chance to have a chat to those who I'd missed out on talking to in the previous days. Afterwards, our chilli eating contest at a Thai restaurant on Sunday night left us in need of throat transplants and made Bassam stoop to the low, low depths of drinking beer through a straw, but it was heaps of fun.
Of course there was much more than this, but I can't give away all the fun, can I! You'll just have to watch the presentation videos for yourself, or even better if you can, make the trek to Amsterdam the same time next year to join in the excitement. I know I'll be doing my best to be there again too.
« Animatic and Script(s) | Shape slider driver update »
---
9 Responses to "Blender Conference roundup"
kino

said on 27 Oct, 2005:




Hi,
great report Matt, here some photo from the blender conference
http://www.kino3d.com/forum/album_cat.php?cat_id=3
happy to meet the orange team and all the people at the BC
hope to see you in italy :-)

ciao



Gabio

said on 27 Oct, 2005:




Very cool. I could feel the ambience.
On our side, the Montreal Conference was also very fun.
I only regret there wasn't enough Blenderhead from elysiun.



Umbroth

said on 27 Oct, 2005:




Hi matt,

thanks for your report. It's was so great for us to meet a fantastic team at this BC. We hope to give our sequencer plugin nearly.

Marc & Serge



wu

said on 27 Oct, 2005:




cool to see the new photos. i also saw a few of the video presentations. looks like lots of fun i hope to make it out one year……….and get beat up.

also what is up with "youngbobcat" haha

money- yay!
trip dragon
youngbobcat

/wp-content/themes/orange/images/blog/media/IMGP5130.JPG



BrianH

said on 27 Oct, 2005:




Perhaps I will meet everyone in Amsterdam next year. As Gabio mentioned, the Montreal conference was a lot of fun. We even got to see the trailer after the torrent was publicly available. I'll definitely have to check out the video's though, and hopefully we'll have ours online soon too.

Keep up the great work guys.



Nathan Letwory

said on 28 Oct, 2005:




"youngbobcat" is in this case an impersonation (by yours truly). Unfortunately, Matt decided in all his wisdom to not put up the "intrr" impersonation.

Nathan "jesterKing" Letwory



Rui Campos (RCAS)

said on 28 Oct, 2005:




Hey I know that "youngbobcat" guy ….



lo

said on 31 Oct, 2005:




Hi,

Great moment for all the Blender Communauty. Bravo…

But where are the girls ? Only man in Blender's world ? should change it ;)

lo



Francisco Ortiz

said on 8 Nov, 2005:




Yep Lo. I ask Ton where are they? He tolds me NONE aplly to Orange… :(

Very nice Pictures Kino! Longing… Like Ricarddo said, "we are all in state of grace"