/ by Bassam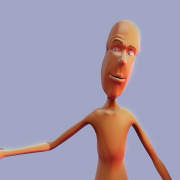 Perhaps you remember this post in which we introduced blender's new drivers with the mancandy character. Well, subsequent changes in blender broke the old file; The jaw, eyeballs and other facial controls stopped working once keyed. I was unaware of this until I read this thread on blenderartists, after which I came to two conclusions:
1- Nobody knows the character's name ;) ! ( His name is Mancandy, an homage to the movie Manchurian Candidate and his candylike outfit)
2- I had to fix the rig to work with the recent improvements in blender, and not just his broken face. Many of the armature's internals were workarounds for old blender limitations. The intent of the model is for people to learn animation and rigging- which can be confusing if there are 4 bones where only one is needed. So I did a little update of the character. I fixed a few things, simplified some others, and took advantage of the new features.
Though the character is not realistic, the rig isn't a toon rig; it lacks controls for e.g. squash and stretch ( which I may add at a later date, or can be left as an excersise for the user ). For a more toony setup, visit Sketchy's excellent Ludwig rig, which is extremely light and has some rather fun squash N stretch-ability.
» 117 Responses » | Post a Comment