/ by Orange
Well it's been a crazy week leading up to it, but last night at the Blender Conference animation festival, we showed our teaser for the first time. Without further ado, here it is for your enjoyment!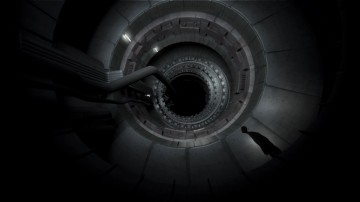 30MB MPEG4 (BitTorrent)
30MB MPEG4 (blendertestbuilds.de)
Update Oct 17: Here are some other mirrors and compressed versions made by the community!
24MB MPEG (BitTorrent)
« The Ever Shrinking Orange Wishlist | Blender Conference streaming video »
---
165 Responses to "Elephants Dream teaser"
ZanQdo

said on 15 Oct, 2005:




WOW Dowloading!!



Puke

said on 15 Oct, 2005:




Sweet



Job

said on 15 Oct, 2005:




very nice lookin! :D



peter

said on 15 Oct, 2005:




wow!!!!!!



Chris

said on 15 Oct, 2005:




WOW!!! LOOKS GREAT. I can't wait to see the finished project. Keep up the good work.



Vassilios

said on 15 Oct, 2005:




GREAT! The Dark Ambient- Atmosphere in Combination with Music is Amazing!



STORM!

said on 15 Oct, 2005:




Which player plays MPEG4? Neither Winamp, DivX or WindowsMediaPlayer does?!?



Vassilios

said on 15 Oct, 2005:




Avidemux and VLC media player!
http://www.videolan.org/vlc/
http://avidemux.sourceforge.net/



nudel

said on 15 Oct, 2005:




quicktime =)



yellow

said on 15 Oct, 2005:




Have any Linux users got this Apple stuff working with sound. Not one media player on my linux boxes can handle the audio.



Peteris Krisjanis

said on 15 Oct, 2005:




This stuff really causes addiction. That's first, it pushed me to watch it four times.

Second, everything just looks mastered perfect, even music. Sometimes teasers for real movies ar made so good! Guys, you simply rock!



Peteris Krisjanis

said on 15 Oct, 2005:




Totem should be capable to play this with ffmpeg gstreamer plugins - or xine backend.



STORM!

said on 15 Oct, 2005:




quicktime - thanks, it works:-)

great teaser, great work and great music! keep it up!



Peteris Krisjanis

said on 15 Oct, 2005:




Someone of Orange team could maybe could quickly convert it in high definition Theora for Linux crowd? I have no Linux box here, and I have no hints in way to doing it.



yellow

said on 15 Oct, 2005:




nope not one media player on my linux boxes plays this with audio not mplayer or totem included. Hell if i'd wanted to watch Apple proprietary stuff I'd have damn well bought a mac.

Not only has this project gone from 'using open source' which i thought meant OS included to find their using Apple's with OS X they then distribute the teaser in one format only and that's f–ckin Apple too.



TroutMaskReplica

said on 15 Oct, 2005:




yellow, don't go crazy. i'm sure the video will be re encoded when someone from the orange team checks this.



Extensor

said on 15 Oct, 2005:




Hey everyone, let's try and keep the torrent going. I'll leave mine up.
Also, can somebody please change Yellow's diaper? ;-)



Vassilios

said on 15 Oct, 2005:




Avidemux and VLC Media Player!



Peteris Krisjanis

said on 15 Oct, 2005:




yellow, take it easy. I'm on way to convert to linux friendly formats :)



Juan Javier Martínez

said on 15 Oct, 2005:




Kernon, Philip, Yellow: right. And now Juan from Spain. Audio, what's up w/it? Check it out core team; too many people complaining?

Video: Stunning. Beautiful. Great. Fantastic. It seems you guys were born for 3D. This-is-really-great. Elephant's dream is going to rock really hard. Blender lives thanks to you all.

I will purchase the DVD in a few days time.

"Machina 2….The Dream Returns"….When?

Cheers, team.
A lovely huge,
Juan.
Madrid, Spain.
Blender user and Orange fan.

P.S.: Sorry I first posted on the wrong blog; Blender Conference. I meant to post it here.



Lime

said on 15 Oct, 2005:




If someone can tell me, where to upload the file itself or a torrent, i can provide a mpeg2 version of the trailer!



bitmonk

said on 15 Oct, 2005:




w000t! modifier stack and stoff!



Peteris Krisjanis

said on 15 Oct, 2005:




Lime, you can email me to pecisk@gmail.com file and torrent, so I will try to put it up somewhere on my hosting servers.



Dnas

said on 15 Oct, 2005:




AWESOME!!

Great stuff. :-)

@yellow, etc.: It works for me. On both mplayer and totem, Gentoo Linux.



lo

said on 15 Oct, 2005:




Great ! Great ! looks so good… thx to show us these Beautifull picture from Blender.. go go for more again..

lo



Rose

said on 15 Oct, 2005:




Impressive teaser! Love the atmospheric sound! The man though could walk a bit more natural.

To the Linux-folk: The great open source VLC player (Linux, Mac OS X, Win, FreeBSD…) can play MPEG4 and a multitude of other formats, so don't panic :-)



Omar

said on 15 Oct, 2005:




Great, great look and music fits really well.
congrats

To the linux-folk (thus me too): it works, MPlayer, xine.. :)

Rose: a walkcycle in a such short amount of time, it's not obvious.



JoOngle

said on 15 Oct, 2005:




It played just fine with sound and all here on my Linux box
(Slackware)…no extras installed at all. (Noatun)

Great video - a bit short. And I agree about the human movements, they are a bit too robotic at this stage.

Other than that - I really like the composition, music & mood.



samizel

said on 15 Oct, 2005:




WoW ^^



yfkar

said on 15 Oct, 2005:




Anyone have a lower quality version? This one works like a slideshow on my cpu (and I have to use quicktime, bleh :| ).



Lime

said on 15 Oct, 2005:




For those with a Azureus Torrent client, you can try to download it using this url:
dht://4EDD991CDAC57512877A41B91FC3AC85640702EE.dht/announce

Don't know if this works (decentralized tracker). Never tried it before. ;)
It is a 25 MB Mpeg2 Version of the Trailer



yellow

said on 15 Oct, 2005:




hey, many thanks all those on linux who've got no problems, I'm on Gentoo too so I'll see where MY problem is.

Extensor: I've changed it now I sh-t myself laughing at your comment hehe.



Myster_EE

said on 15 Oct, 2005:




Wow! Very nice, guys!

Are you using Open-source for the video editing?

If you are, what are you using? (I'm guessing not VirtualDub)

The Blender Sequencer? Where did you get that wave-wobbly effect used all over the place?

It's gonna be great! I can tell!



Juan Javier Martinez

said on 15 Oct, 2005:




Yes, Myster_EE; afaik they are using the blender sequencer; I asked that a few days ago…and was stunned about the results….

Blender Sequencer is maturing quite fast….and is very intuitive to use…

Blender is a great tool for pre and post production of cgi material…

Juan.
Madrid, Spain.

P.S. As for the sound issues I did not try Totem yet. I use Debian GNU Testing…but never had sound issues with anything…Is there anyone out there w/Debian which can get sound out of the teaser? If so please let me know…



jan

said on 15 Oct, 2005:




Juan - I get sound both with mplayer (1.0pre7, self compiled) and VLC (0.8.4, from Debian unstable).



Lime

said on 15 Oct, 2005:




found am open tracker where you can download now:
http://static.thepiratebay.org/downloadtorrent/3397115.torrent/elephantsdream_teaser.mpg.3397115.TPB.torrent



Juan Javier Martinez

said on 16 Oct, 2005:




Yup! Sound issue solved. It was my fault.

Wrong permissions prevented VLC and MPlayer open the sound device.

Beautiful music score.

A last note- for everyone out there having difficults with sound…just give it a try under root#>

If it works, check permissions. Just hope it helps….

And a big hurry up to the core team. BTW…When will the outside collaborations stage begin?

Juan
Madrid.



yellow

said on 16 Oct, 2005:




yep sound here was MY problem also. Added aac to my use flags in Gentoo and rebuilt mplayer. Sound now works great. My apologies all round.

As for the trailer, well incredible, music score fantastic, luv the atmospheric feel and lookin forward to everything to come.

My congratulations to the Orange team for everything so far.



obi1

said on 16 Oct, 2005:




nice, amazing work!



wu

said on 16 Oct, 2005:




first off music is fantastic,
you guys picked a great composer!

didnt get to see much in the way of characters,
but the setting looked pretty decent.

i can feel the presence of basse in the dark, maddness of the mood, haha, very cool!

and i can see a big presence of andy in the architecture, look forward to seeing what the rest of the amazing group will add!

it is going to be stunning for sure,
hopfully i will be able to buy a used dvd off amazon.com in the future, haha, iam broke!! i should get a job instead of harassing you guys with goofing animations, haha.

keep up the great work!



claas kuhnen

said on 16 Oct, 2005:




really well done eyes!

claas



Johan

said on 16 Oct, 2005:




Great teaser!

The scenes were depicted in a very dark and foggy way, with strong silhouettes. The overall design appeared intricate, amoeba and nexus like….I wanted to stare at this world and uncover more of it.

The character appearances were brief and their expressions and actions left ambivalent. I found it difficult to identify a clear protagonist and villian although the music was highly suggestive of the role that the characters are going to play in the story.

The musical score was fantastic! Those strings plucking in the background with the horn sounds rising are such a pleasure to listen to!

The teaser left a number of questions lingering in my mind,such as: What is the purpose of the giant grey rotating machine? Who is the mysterious caretaker figure (is that a mechanical hand!?)

The little box or microphone character looks like he is attached to a chord- can he only move a short distance?

Time to view the teaser again…..



Daniel

said on 16 Oct, 2005:




GREAT WORK! go ahead team! ;)
Congratulations for every person involved directly in Orange, but also for people who worked in Blender or any other OpenSource tool used for Elephants Dream



rich

said on 16 Oct, 2005:




the teaser certainly teased. i pretty much loved everything but the close-up of the human, it looked really simple and low quality compared to the flavor of the rest of it. a bump map and maybe a few other uv mapped layers on the face might help.

keep up the GREAT work!!!

/rich



Master Ar2ro

said on 16 Oct, 2005:




It's simply beautiful! Great work guys. Keep it up. I love the graphics ;)… and the music… just everything… I want more! :D

//Master Ar2ro



The Masonmop (not my real name)

said on 16 Oct, 2005:




wow, that's so cool. I wish I knew how to do that with blender.



Jordi Pina

said on 16 Oct, 2005:




WOW! I love it, but we haven't seen a lot of character animation… Only camera movements…

I need the Orange finisehhheeed! :D

Good Job boys!



Basse

said on 16 Oct, 2005:




good morning people. just couple of quick replies:

- the filesize is a bit big, I try to see if we have time today to make a more compressed version, and smaller resolution.

- about characters.. there is no uv mapping done yet. or any other real texturing, only colors. facial expressions are also yet to come. for the teaser we just did couple of quick ones.

- for editing/compositing, we used sequencer.

- the teaser was put together basicly in one week before the conference. animating was done for the teaser only. you will see the characters in the final movie, maybe some of the environments .. but none of these are final shots from the actual movie.

thanks.

.b



agresor

said on 16 Oct, 2005:




QL.



kakapo

said on 16 Oct, 2005:




really impressive! :)

…just take care that you don't make it too dark. i think it could lead people into thinking that you want to hide some flaws.



Reno

said on 16 Oct, 2005:




Wy the …. are there still people using other software for
this kinde of stuff!!!!!!

Go on !



Matt

said on 16 Oct, 2005:




Hey there guys, thanks very much for your comments! Regarding formats and codecs, basically this one now is the version we showed at the conference, and I just uploaded it directly in order to get it online quickly. We've been really busy here and haven't had much time but hopefully we should get some other formats online soon (xvid, whatever) encoded from our uncompressed source. BTW MPEG4 is not a quicktime format, it's completely open and can be played on lots of open source players. But fear not, we'll get to encoding right after yet another of our presentations here!

Cheers



19to30

said on 16 Oct, 2005:




Animation is quite poor… Cyber-bird shaked its hed in a very strange way. Mad scientist was quite weird in his emotions. Animation is too smooth and faceless, doesnt say anything about personality or mood. Picture is much better, I think, it is even good. Keep working on animation and U'll make a nice project.



19to30

said on 16 Oct, 2005:




And one more thing … Try to post this short somewhere on CGTalk, I'm sure U'll get proffessional response and comments. Here, most people are blender users and they are happy with results better than they've seen produced by blender. This short is better than movies produced by blender before - that's true, but that doesn't mean it hasn't got strong disadvantages.



mf

said on 16 Oct, 2005:




hmmm…. must agree with 19to30 there…. I'm kind of disappointed with the teaser, I hoped it to be something… well, more and better. It's hard to say what's wrong in particular, but 19to30 may be right, it is probably the poor animation. But the music is rather good, so that's a start at least. I just hope the finished product will be much better than this……

But, again, may be I have seen World Of Warcraft intro movie too many times ;)



Jordi Pina

said on 16 Oct, 2005:




mf, we haven't already seen any animation… If the orange animation is like the walking man it may be really poor…

I hope it will improve :)



Matt

said on 16 Oct, 2005:




Yes, the animation will be much better in the final. We're still at a very early stage, and worked for a short time on this. The characters have no textures and they are only halfway rigged, but we thought it would be nice to try and include them to give an impression of what we're working on. It was a good experience creating this, instead of just showing concept art. I think we can do a new blog post soon giving a nice round up of what we thought about this teaser, what problems we faced, and what we've learned from this first step.



3akucka

said on 16 Oct, 2005:




very beautiful work!

I find only that the machines are deplacent in a way a little too perfect, mathematic, in reality even a machine cannot be also perpendicular compared to the ground, there is forcing a small imbalance.
the fog look a little beet flat



Kernon

said on 16 Oct, 2005:




Great work Orange team!

I think some of the critics need to pause for a moment and realize that this is a TEASER not a trailer for the movie. It was quickly put together just to give an idea of the final movie. 19to30, I think it is a bit of an insult to the Orange team and all Blenderheads to suggest that we are all rank amateurs with no professional experience and have no idea about good CG artwork. I think most of us simply realize that this is a TEASER and not a trailer.

Go Blender!



Epsilorn

said on 16 Oct, 2005:




Don't know if it's only cause the lack of time but face topology of the character doesn't seem welll placed. Only an impression.
As for the rest it's inspiring!!



Jonathan Merritt

said on 16 Oct, 2005:




A lot has been said about the music. But … is there any Open Source software being used in its creation? Things like Rosegarden for sequencing perhaps, or some Free soft synths maybe?

(btw: IMHO, using something like Audacity to edit it doesn't really count, if the master track was created using purely commercial tools!!!)



Alexander

said on 16 Oct, 2005:




I'm impressed. Very good as for a teaser.
Yes, the animation seems very smooth from time to time, but it is still a teaser, so I think the final product will be much emproved.
Well, if you need some crits, I think characters behave way to sleepy, slowly and phlegmatically, but i like the way that the mad scientist turned with a gun. It makes me feel him alive. The turn was very sharp and expressive. I'd use these сharacteristics in further animation.

Keep up the good work.
I hope the elephants dream will come true!



Fish

said on 16 Oct, 2005:




have feora4 here, tryied every player, no sound…
FINALY:
got gm4player from

linuxmedialabs.com/LMLCD/LMLM4/LMLM4streaming/
mpeg4ip_for_lmlm4-xxx.xxx-xxx.i386.rpm

rpm -ihv that rpm, start it and play
rtsp://qt2.waag.org/zaal.sdp

WORKS with sound :-)



Johan

said on 16 Oct, 2005:




I hope 19to30 can provide some URLs of good CG art, animation and independant CG movies. I use Blender and would love to learn more about animation.



Fish

said on 16 Oct, 2005:




oops that was for the conference stream, didnt try it for teaser, but it might work too :-)



Vassilios

said on 16 Oct, 2005:




The Dark Atmosphere (ambient) and also the Musik of this Teaser reminds me a little bit "Lemusicien" Animated 3D Film i see!



tmr232

said on 16 Oct, 2005:




looks great!!!
it is really high quality, but I dont like the dark atmosphere.



Mason

said on 16 Oct, 2005:




I've transcoded the teaser video into a Xvid/Ogg Vorbis contained in a OGM. It's the same resolution and quality IMHO, video bitrate of 903 for those who care :D, but it's now only 8.9Mb.

Grab it from: http://www.ourmedia.org/node/75327

Hope this is of some help to the Linux users.



jan

said on 16 Oct, 2005:




Jonathan, I'm using some open source software for peripheral tasks (such as Audacity for two-track editing, sox for file conversion, flac for exchange and archival purposes), but if you don't count those, most of the core software in my workflow is indeed proprietary stuff. Actually, I'd love to change that, but unfortunately, there's currently no viable free solution for this kind of setup on the horizon - yet. Although I'm fairly sure Ardour will eventually mature into a serious Pro Tools contestant (it has the best chances among all OSS pro audio applications and is AFAIK already used by several larger facilities for audio-only stuff), I found it's not quite up to the task yet if you also happen to need things like sophisticated MIDI integration, interoperability with professional plug-ins, or video post-production features.



Peteris Krisjanis

said on 16 Oct, 2005:




I can clarify that (at least afaik) is quite impossible to get such level of virtual instruments in Linux - yet. Most of that problem is that VST system isn't normally supported - I don't know anything about licesing it, or whatever.

And I also agree that Ardour grows rather seriously. And yeah, MIDI support in that would be very good :)

But we will get there, eventually.



jan

said on 16 Oct, 2005:




Actually, in my case, most of the VIs I used for the teaser music are hosted on external machines which are triggered via MIDI, so that wouldn't be a problem in itself (although getting the audio back into the DAW would be more difficult, since I'm using an Audio-over-Ethernet system). But you're right, one of the bigger problems with OSS pro audio apps is the lack of support for professional plug-in formats - that being said, I'm using a Mac as my main DAW, and I expect growing support for AU in the future, since it has a fairly well-documented API, and all required header files for compiling AU hosts and plug-ins are already in place. VST and VSTi will keep being a problem as long as Steinberg imposes strange restrictions on everyone who wants to use their SDK, as I think very few developers will jump through hoops (like the Audacity guys did) and offer external VST wrappers for their programs.

Erm. But perhaps we should continue that discussion where it's not as off-topic as it can possibly get. ;)

On an unrelated note, thanks everyone for your positive comments!



winnie

said on 16 Oct, 2005:




If it doesn't play with mplayer, you should install the codecs (win32_all package) to /usr/lib/win32. Plays fine here (suse10).



Lyall Jonathan Di Trapani

said on 16 Oct, 2005:




Great job. Can't wait to see the whole thing. Hurry up! But take your time and do a good job :).



carlinhos

said on 16 Oct, 2005:




Fantastic! I am totally surprised about the quality of picture and sound. I hope, you can hold that level through the whole movie and that the story is at the same high level.



PolygoneUK

said on 16 Oct, 2005:




Ooooh, thanks team for the higher definition teaser. Must say, I'm quite fond of dark and moody film techniques. Anything like Tim Burton is fine with me ;)

After watching the trailer I only had one question buzzing in my head…

"Geez, was that all rendered with blender's internal renderer or yafray :O?"

Well???



intrr

said on 16 Oct, 2005:




Well, this is OK, but not really thaaaaat impressive as many people in this comments section think.

It's way too dark, you can't see anything in the dark areas on a properly calibrated display device (maybe the orange team should try CRTs instead of TFTs so they get a decent color response ;-)

For example, Mindfields, as the work of a single person, impressed me much more.

But well, as this is only a teaser, let's wait for the final result :)



Ongnissim

said on 17 Oct, 2005:




I think the music was the best of the Animation thus far, it really fit the mood, good hob Jan!

The lighting also was really well done. The animation, however, was not up to par, IMHO. The man walking, near the begining, was alright for me, but I didn't like the hopping microphone- not enough physical reaction to the landings. The facial animation was also not completed, like has been said by the Orange team earlier in this post. I really do like where this is going, and I hope for something amazing to show those Mayaholics of what Blender can achieve. (Blender gets as many new features in a .01 version increase as Maya does in a full update 0o0) Anyways, good job so far.

My favorite parts of the teaser were with the wires, great animation there…

Hold on Tight,
Ongnissim

P.S. for future notice, I use Ubuntu/Kubuntu Linux 5.04 and I can watch the clip perfectly (GXINE + MPLAYER CODECS)



alt

said on 17 Oct, 2005:




Music was good. Very cinematic.

Facial animation was too cg, too much curve-like and way too vague, try to make it more 'pronounced' if that is the right word. The guy on the bridge didn't have much weight, same for the big walking thing which strangely slowed it feet just before touching ground (therefore having pretty amazing strength!).

Do you act out the scenes before you animate, to get the mood and pose for the character and so forth? Or do you start to animate right away?

Be careful with the camera, generally it's way too easy to move cameras in cg (compared to puppet animation, at least) instead of doing a proper cut. Needlessly moving camera can be seen a lot in 3d shorts and it is always bad..

I liked the light a lot in some scenes, looked atmospheric and dreamlike.

What was said before about asking for criticism - I have not seen anything final but critical feedback is always beneficial and can only make it better (or bitter). The problem is to find a good critic.

Good luck, and keep going.

btw, file played flawlessly with mplayer on freebsd.



Firefox

said on 17 Oct, 2005:




Nice teaser, liked it a lot! Looking forward to see the suggested improvements. I'm sure you guys will do just fine!
Just one thing: IMHO the glow effect is too strong. Your modelling is fine, you don't to need to hide it behind a *Oh-so-fancy* postpro effect :-)

Keep up the good work!



seiya hitoshi

said on 17 Oct, 2005:




I think the work was not too bad, considering that, as was said before by the team members, the rigging the texturing and the like were only half done. I am sure I have also seen much better work before, although I am sure those works were completed and not in the process of being set up. As this is a teaser, and that they did this in a 'WEEK' I say You guys did an awsome job. 19to30 may have had some valid comments, if this was a completed work, but as it only a teaser, I beleive you could save those crits' for when the movie is finished.

I do agree as everyone does here the music was incredible. Well done. And to the orange team, I hope you guys are proud of the progress you guys have made. Afterall, thanks to you guys we are finally getting some serious development done within the blender program itself. This is the sort of thing that made the Maya staff get their stuff together, and I can only look forward to the future progress of the blender project.
Ton, are you proposing to do future orange projects? If so listen carefully to the guys leaving requests or even
some serious crits' because if these areas are looked into, I can be certain that after a year or two, you may just see some more of blender used by some of the major studios. But orange team you have given the community something to lookforward to. Thanks

as we say in Japan, Otsukaresamadeshita! Cheers!



seiya hitoshi

said on 17 Oct, 2005:




I just watched the movie again, and it was awesome… Great work!



Flare

said on 17 Oct, 2005:




> most of the VIs I used for the teaser music are
> hosted on external machines which are triggered
> via MIDI […]
> since I'm using an Audio-over-Ethernet system).

That sounds very interesting, Jan. Could you tell a little bit more about how you do this and what machines you are using? It's always nice to learn of new ways of making music.



Bassam

said on 17 Oct, 2005:




hihi, nice crits and comments everyone :)
I'll answer some of the crits in a general way…
we're happy with the teaser as a 'teaser' but we'd all be highly dissapointed if the final is at the same quality level. None of the characters are textured or UVunwrapped even. we haven't made hair or eyebrows.. etc, nore will we untill much later in the project, so we lit things dark on character shots on purpose to try to miminize the difference between the characters as they are now and how they will look… I agree that we took that a little too far.
The character animation was done 'on the fly' with no time put in… for instance, the facial at the end, I rigged, made the shapes, and animated in one…late…night (I got home at 6 am).. it was good for the amount of time I put in, but not, I agree, good enough for the final movie. The old man walking wasn't even animated; Lee blocked out the key frames, and before he had time to finish, we whisked the file off to render and assigned him other tasks :)
keep in mind folks.. the teaser was completely made in 1 week.
oh, and big thanks to jan for the fantastic, totally inspirational music :)



jan

said on 17 Oct, 2005:




Flare, sure! I'm using Logic Pro 7 on a Dual G4/867 as main DAW and MIDI sequencer. Most non-orchestral VIs are hosted on this machine. My hardware synths and samplers are connected via 2 cascaded MIDI interfaces, with 6 midi connections going to two external rack PCs (P4/3.4) hosting EWQLSO Platinum. For administration and changing templates, I operate those via VNC from my Mac. From there, I get the audio streams back into Logic via Wormhole2. I'm still experimenting with the setup, as I added the second PC only recently, and went via ADAT lightpipe into my main interface before that.
It seems I can get this setup down to an accumulated buffer size of 1024 samples, which comes down to a latency of about 21ms @ 48kHz. (Can't wait for quantum computers - zero latency at last! :)

Anyhow, if this is of any interest, I can write some more detailed blog posts about the (more Orange-specific) sound stuff later on.



Matt

said on 17 Oct, 2005:




Jan, that would be fantastic :)



Bill

said on 17 Oct, 2005:




Test builds server seems to be down..

I did see the teaser yesterday though. I thought it had great atmosphere, and I don't share the same disappointments as others. The audio is teriffic, and the visuals are rich. With the animation system still unfinished and with incomplete rigs I presume the animation seen here is very WIP.

I'll order my copy straight away!



Jonathan Merritt

said on 17 Oct, 2005:




I'd personally be very interested to see some articles on the music and audio. Despite the focus on CG, the sound track can add an incredible amount to the impact of a piece (as we can see even in the case of the teaser!).

Jan: for completeness, is there any chance of you eventually publishing a sheet music score of your finished work? I've seen some quite impressive results from Lilypond (and I'm sure there are loads of people who'd be interested in writing the Lilypond input files :-).

Also, I think it's always extremely useful to see (critical!) reviews of Open Source products by someone who's a professional in a particular field.



Bas van Dijk

said on 17 Oct, 2005:




Saw sunday October 17th at the Blender conference you Blender file demo, now I saw it in motion! Keep up the good work!



Vassilios

said on 17 Oct, 2005:




I also have to say like Matt:
Jan, that would be fantastic :)



joeri

said on 17 Oct, 2005:




Context and perspective please.

"I think final fantasy was much better" remarks do not make much sense to me. 8 people, 8 week vs 120 people, 3 years is comparing apples with…, oranges.
What they might suffer from is that it looks to good for a weeks work and thus get judged in the pixar leage.

"It's to dark, don't they callibrate there monitor?" haha, I think they work at wrong times. Watching the leader at 3am should improve image quality alot :)
Then again, final renders will be 16bit floats printed to 35mm film. Monitor calibration should be set to that.

I think the teaser shows very well in what direction we can expect the mood of the story to be. It shows the settings, the design ideas, the main characters, the mood ideas and hints on the sound without revealing what the story is about.

I've seen inspiring, creative ideas, so; Good work!



jan

said on 17 Oct, 2005:




Jonathan: I'd have to look into that, but it's not too likely - there's no need to prepare a score suitable for performance by a real orchestra (at least not before 4000 DVDs have been pre-sold :), and turning my own illegible scribbles into a score that'd be even remotely useful to anyone would probably require us to outsource to prisons in less-than-democratic countries. :)

(Besides, I'm not sure whether I like the idea of 100 music buffs looking for parallel fifths in my stuff ;)



ASka

said on 17 Oct, 2005:




What a teaser!!! I knew blender was good(I've used it for title creation myself) but this is better than hollywood ;D

I'd like to know how(tutorial? :-D) the title was made…

Hope to see another teaser soon…
Keep up the good work!!!



Toon Scheur

said on 17 Oct, 2005:




Man, I was ready to take this appart. But it looks quite nice. But there is too much slow panning of the camera. A few seconds is more than enough to set the atmosphere, otherwise it will feel too CG-like.

Glad to hear that the animations will be worked on further. And yes, you guys do really push the envelop. It would be a scandal if it turns out you guys did it in Maya and Renderman secretly.

I've got my Jeff Lew DVD last week. First I was into rendering stills, but now with what I learned from the DVD, I really into animation now. Keep up the good work.

One question: does drivers allow you to set the intensity of a bumpmap, so making it appear like veins are popping up when you flex muscles?



Vassilios

said on 17 Oct, 2005:




Question:…about the first Seconds in Teaser…..is this Underwater? It looks so!



Myster_EE

said on 17 Oct, 2005:




Is this thing going to come in Dolby-ish 5.1? That'd be quite cool!



Myster_EE

said on 17 Oct, 2005:




Also, how long did it take to render this teaser? and on what hardware? (You guys have a Super-Cray hidden in a basement somewhere?) And if you're using a network render, (which I hope you are!) what software do you use to manage it?



Joël

said on 17 Oct, 2005:




Woahhhh ! Fantastic! Really magnificent! Of the good work! It is worth the bend and it promises for the suite. Bravo!



Eliot

said on 18 Oct, 2005:




This looks very promising for a work-in-progress. The scenery was very nice, and the characters seem to be coming along. I can't wait to see a full-fledged trailer.

Oh, and also, if you ever need an open-source nonlinear editor (other than the blender sequencer), you might want to give Cinelerra a try.



Toon Scheur

said on 18 Oct, 2005:




I took a better second look at the teaser. It looks cool indeed yada yada yada. But what impressed me was the distortion effect. I always wanted to do heat wave. Do you guys know how to do this. Also the cables connecting and the long flexible leg of the robots was neat. B-bones? The movement of the character was almost natural. And overall I like the cenimatic feel of it, in especialy the timing at the end with the Elephant dream logo. Very dramatic.



Mustafa

said on 18 Oct, 2005:




Is it only me and my VLC that has noise/failure on the right side of the screen when playing the teaser?



intrr

said on 18 Oct, 2005:




Jan: I can't believe you're working at 21 ms latency, that sounds totally horrible and unworkable to me.

I'm working at 6 ms latency, and I can barely stand it. Especially if I play external synths (which are obviously routed through software), the latency becomes very bad.

I'm trying to push the latency down to 3 ms, while others are happily working at 21 ms… I have too high expectations :)



jan

said on 18 Oct, 2005:




> I'm trying to push the latency down to 3 ms, while others are
> happily working at 21 ms… I have too high expectations :)

For the record, I never said I'm working at it yet :) 21ms is pretty much unacceptable when it comes to recording, but since this value would have only applied to my second EWQLSO host and it doesn't really matter in playback, I would have been able to cope with it (you can always use proxy instruments for recording).
That being said, I'm pretty new to the Audio-over-LAN stuff and expected better performance. In fact, after the Wormhole2 connection turned out to be unreliable even at this buffer size, today I ditched the whole thing for now in favour of going back to ADAT connections, which I can get down to 5ms @ 48kHz in most cases. Oh well, you get what you pay for. ;)



Hoot

said on 18 Oct, 2005:




Thats awsome!!! I am amazed



Epsilorn

said on 19 Oct, 2005:




If I can add something as a constructive critic, i think the face of the character is a bit "generic", i mean it lacks personality.
Don't know if it's only cause of missing textures and hair but it doesn't seem having preminent features giving him incisivity.
My two cents.



LuthiAir

said on 19 Oct, 2005:




I'm sold completely. Soon as I get some money I'm buying the DVD. Incredible. The artworks is first rate, the animation awesome and the soundtrack is way cool.



Danni Coy

said on 19 Oct, 2005:




Looking very nice concidering the amount of time put in - reminds me quite a bit of lots of robots so far.

File worked fine for me (Xine)

The sound stuff posted is interesting. I am currently learning Ardour and having reasonable success using external midi programs… Still I have some ways to go yet



Myster_EE

said on 19 Oct, 2005:




Speaking of Music Software, Jan-

What do you think of FL Studio? (I know it's not OpenSource, but it's fairly cheap…)



Durden

said on 19 Oct, 2005:




Hmmm… i've got some kind of problem with downloading the trailer =||| Nothing happens when i'm click the link or just select the "Save Object As" option…

torrent - is it some kind of download client???



intrr

said on 19 Oct, 2005:




Jan:
I once tried this audio-over-lan stuff too, with a thing called "FX Teleport", which could run VST Plugins as a *host* on a "server" computer, and the "client" would be your sequencer with a special plugin which exchanges the data over lan and acts as if it were the "real" VST plugin (but in reality it only sends and receives the data from the actual plugin running on the server).

That was pretty interesting, I used it for moving my 3 main reverbs to a different computer.

The latency over the LAN connection was around 6 *additional* ms though, and thus the reverbs sounded different, and some reverbs were just not achievable due to the ER coming too late - but it's an interesting thing anyway :)



jan

said on 19 Oct, 2005:




intrr: Yeah, I tried FXT aswell, but it's a bit impractical for my setup as there is no Mac port, and having PC1 act as an FXT host to move the streams from PC2 over to the Mac is a rather pointless exercise. Anyway, regarding the case you described, what kind of DAW are you using? Most of them have latency compensation throughout their signal path nowadays, so you might be able to get the reverbs synced in mixing.



jan

said on 19 Oct, 2005:




Myster_EE: Sorry, I have never tried FL studio myself. But I heard it's quite cool for the money, similar to Reason.



Rui Campos

said on 19 Oct, 2005:




I already said this at the Conference, but anyway will post it here.

Good work guys, if you manage to have the time to complete it as you invisioned it, it will be amazing.

Any help, just say something :) .

Cheers, RCAS .



Marmottaninja

said on 19 Oct, 2005:




(If you want to play a mpeg4 file you can download VLC media player, it works!)



Umbroth

said on 19 Oct, 2005:




Hi Bassam and Orange Team,

We waiting for the makingof. Realy great job and nice 3 days at the conference.

Marc & Serge



Salvador.mata.com.mx » Blog Archive » Elephants Dream

said on 19 Oct, 2005:




[…] Los integrantes del equipo Orange habían prometido un demo de la pelicula que están realizando. Esta fue publicada al inicio de esta semana en en blog del proyecto, bajo el nombre de "Elephants Dream".. no sé a que se referirán con ese título.. porque en español suena raro ("Sueño de elefantes" o algo asi) en fin.. se ve que al proyecto obviamente le falta trabajo por hacer, como comentó el mismo Matt en el blog… pero recordemos que un trabajo de tal magnitud no es nada fácil y se va a necesitar algo de tiempo, pero a pesar de todo les está quedando muy bien […]



intrr

said on 20 Oct, 2005:




Jan: When I tried FXT, I was still using Nuendo, and I intentionally turned PDC off *only* for the FXT plugin. The reason is that obviously, the host will (must) use the 'slowest' plugin as reference delay, so just the fact that I moved some of my effects to a different computer meant that I had to deal with 21 ms (instead of 6 ms) latency *everywhere*.

So I preferred to turn PDC off for that plugin, have the reverb 'lag behind' a bit (well, some reverbs do that anyway, especially big rooms :), and tried to live with the bigger rooms ;-)

Nowadays, I'm using Logic Platinum 5.5.1 (which - for me - is the Blender of audio), and I would never return to Nuendo.



Extensor

said on 20 Oct, 2005:




Yeah, what #115 said!
And on another note…
I eagerly await your next update… it;s been 5 days, i need my Orange juice. :P



Carsten

said on 20 Oct, 2005:




Hi!

Great mood in this trailer… i love the look&style of it. For a "quick shot" it´s really impressing.. i´m looking forward to get my (already bought) copy of the DVD..

And i like the music! (Jan, and it´s great to know it´s a german Logicuser who is responsible for the score.. i am a logicuser too… do you know the .de website with same name?)

keep up the good work! Orange rules…



jan

said on 20 Oct, 2005:




Carsten: Yes, I know it! :)



Juan Javier Martínez

said on 21 Oct, 2005:




Hey, Matt, Basse, core team in general: Are you editing and doing post-production in Blender, isn't it?

Under what platform? Is it linux? If so, is it Debian?

I am having horrible issues with sound within the Blender sequencer under all Debians and window managers: so far I tested BlackBox, Gnome and KDE: Sound gets imported, but refuses to sound within the sequencer.

How do you manage? Could anybody help?

Thanks,
Juan.



Bassam

said on 21 Oct, 2005:




Juan: It's probably because some other application is using the sound, and sound mixing is not present/enabled in your hardware/software
we have the same issue currently w/ our current workstations (onboard sound) and blender.
We'll probably get some emu10k1 based soundcards, they've got hardware mixing that works in linux (I think) no need to depend on a sound server for that.
Of course, I'm only guessing as to the cause.. does sound work for other applications? does blender print something when it doesn't play the sound? is the sound format correct (Blender only plays 16bit wavs afaik).. those are other good questions.



Juan

said on 21 Oct, 2005:




Bassam: I appreciate how fast you tried to help.

I am almost desperate. I will be clearer:

Every sound application is closed. I have got alsa up and running, as well as alsa-mixer gui: the desktop mixer for alsa.

I know Blender only accepts uncompressed pcm wav at 16 bits wide: that is what I am feeding blender with.

The full message from the console is
"ALSA lib pcm_dmix.c:802:(snd_pcm_dmix_open) unable to open slave
Couldn't open audio: No available audio device"

Here

http://www.elysiun.com/forum/viewtopic.php?t=52896

you get the full story.

So you tell me you are having the same issue with you blender-linux workstations?

I would be pleased if you tell me how are you all going to solve it. My own project -very based upon the Orange spirit- is in the works, and I was planning to release a teaser soon in my own web. But I will have to solve this stuff first…

It is becoming a true nightmare for me. I don't get where the fail is. And since orange is being a strong inspiration source for my work (as I told), I talk to you core team for advice.

Thanks, Bassam.
Plz, let me know your tips on this.

An Orange friend,
Juan.

Madrid, Spain.



jan

said on 21 Oct, 2005:




Juan, do you happen to run KDE or some other environment that might have a sound daemon running in the background (artsd, in KDE's case)? If so, could this be blocking your device?



Juan Javier Martínez

said on 21 Oct, 2005:




Cheers, Orangers (I love you all)!!

—Got issue solved. Hope it helps to you too, since Bassam told you were encountering similar issues with your linux workstations.

—Simply run blender from console with the option -g noaudio.

The sound game engine is the f*c**ng guilty. It is all explained in detail here

http://projects.blender.org/tracker/index.php?func=detail&aid=1474&group_id=9&atid=264

BTW: Which flavour of linux are you using for the film? I am using Debian GNU Sarge (stable), Sid (unstable) and Testing.

A huge hug,

Juan.
Madrid (Spain)



basse

said on 22 Oct, 2005:




nice to know that there is someone loving us all, but might cause some jealousness issues at the studio.

on the linux boxes we are using ubuntu linux. one hoary (updating soon), and two breezys. we are running 32 bit system, except bassam, who has sort of weirdo dual 64 and 32 bit system. (makes him feel more like a real director I suppose, so we let him have it)

and to be honest.. I kind of enjoy ubuntu. almost like debian, but more fancy thingys.

.b



Orange » Blog Archive » Blender Conference roundup

said on 27 Oct, 2005:




[…] * Our Elephants Dream teaser screening was exciting and frustrating at the same time. Although we'd quickly tried to test it earlier, the projector just couldn't handle the range of brightness we needed and it ended up very dark, hiding much of the animation and graphics that we'd slaved over for many nights. At least the web version is ok! […]



Orange » Blog Archive » Sound design for the switchboard scene

said on 14 Dec, 2005:




[…] You can catch a glimpse of an early version of the switchboard in our teaser, and this post by Toni explains the inner workings of the wires. Anyway, let's move on to the sonic aspects. […]



The Jimi Phoenix Report - The Weekend Roundup (yeehaw).

said on 3 Jan, 2006:




[…] First of all, the folks over at Blender3d.org have announced that the next version of their open-source 3D modeling/animation/rendering/post-production…err, and-lots-more software package, Blender is about to be released to the salivating masses. Well, not salivating perhaps, but most definitely waiting anxiously. Blender 2.40 comes in the midst of the development of an entirely open-source movie project spearheaded by the Blender community and Blender creator/icon Ton Roosendaal, so this release is packed full of amazing new features, the ilk of which has yet to be seen in an open-source 3D package. This landmark release (arguably the most important one since the Blender Foundation bought the software from the original NaN shareholders) is currently in B-Con 4, which means that it's going through the final testing phases to glean out any last-minute bugs or glitches. I have to say, I'm very, very excited. If you're at all interested in open-source software at its best give Blender a look - or more than a look. Finally, be sure to check out the Orange movie site, home to dev galleries, a development blog (which is incredibly interesting) and also contains a trailer for the upcoming Elephant's Dream short film. […]



INU.ID

said on 6 Jan, 2006:




WOW

Mehr mehr mehr :D

Ich hoffe der ist bald fertig, ich kanns kaum erwarten.



Nathan Letwory

said on 22 Jan, 2006:




Updated torrent link: http://letwory.net:6969/torrents/838187a14586849ed28a9ab59eabb145359fab03.torrent



territorio internacional » Blog Archive » martes, 14 de marzo de 2006

said on 14 Mar, 2006:




[…] Ya puestos, esto también merece la pena (aquí el trailer). Según dicen es el primer largometraje de animación realizado íntegramente con Software Libre, y tiene muy buena pinta. […]



JHONNY CASH GUEB LOG » Cine Libre

said on 15 Mar, 2006:




[…] http://orange.blender.org/blog/elephants-dream-teaser […]



Tech593 - Tu pulso tecnológico » Blog Archive » Orange: La primera pelicula open-source

said on 15 Mar, 2006:




[…] […]



a Wifiblanes.com weblog » Elephants Dream

said on 15 Mar, 2006:




[…] Por ahora hay un teaser de Elephants Dream unas capturas y en su blog van contando los avances del proyecto Orange. Somos muchos los que estamos a la espera que pongan la película para bajarla…waiting torrent […]



Ana Isabel Pereira

said on 16 Mar, 2006:




Que buena pinta, estoy deseando ver algo más !!!

Saludos.



plue

said on 21 Mar, 2006:




Uploaded into youtube
http://www.youtube.com/watch?v=siHdLOelZZg

From the ogm reencoded.



» Software lliure al poder (contradictori, oi?)

said on 25 Mar, 2006:




[…] Una demostració més és la primera pel·licula d'animació fet amb software lliure, des d'aquí podeu consultar questions relacionadesa amb la producció de l'assunto… […]



krass

said on 27 Mar, 2006:




hi, can someone offer a divx or so? or normal mpeg? i tried many players now, still missing something. have no torrent yet… what is it?



Toolskyn

said on 27 Mar, 2006:




Great teaser! I love it!



Renko

said on 28 Mar, 2006:




Very cool teaser :)
Keep it up the good work, I really want to see the first professional open source movie. ;)



Walien » Blog Archive » Elephant Dream

said on 2 Apr, 2006:




[…] Le projet Orange est sur le point d'aboutir avec la diffusion du premier film OpenSource. Il s'agit d'un film réalisé sous licence Creative Commons (l'équivalent du GPL pour un logiciel).Ce film a été entièrement réalisé avec Blender. Un bon coup de pub pour ce logiciel qui permet de prouver que gratuité peut s'associer à fonctionnalité. La première diffusion aura lieu au Cinema Ketelhuis à Amsterdam. Un teaser de ce film est disponible sur ce lien Blog Orange […]



Monopolio Podcast - Monopolio Podcast #30

said on 4 Apr, 2006:




[…] Dinamarca también pide liberar el DRM de la iTMS Análisis de JP Morgan sobre el DRM Amprofon combatirá las descargas de música Linspire Mini Los 5 grandes errores de Apple Combatiendo la obesidad de los estudiantes Villanos y héroes de Apple iZilla Éste iTalk (iPhone) si lo compramos! Videos de los primeros 20 años y 10 últimos años de Apple Sony compra el 10% de SGI DivX anuncia su reproductor integrado en web Record de velocidad de transferencia Qualcomm y Nortel Teaser de Elephants Dream, la primera Open Movie del mundo GRAW: Ghost Recon Advanced Warfighter. En la Ciudad de Mexico Guild Wars Factions: a partir del 28 de abril Historia de la Blender Foundation Siggraph 2005, lo que demostro Blender. (64MB Avi) preferentemente banda ancha […]



Bonifacius

said on 9 Apr, 2006:




Great article. I am just sad I dont know how to reply properly, though, since I want to show my appreciation like many other.



Flek

said on 19 Apr, 2006:




amiloride-5ity.blogspot.com



benni

said on 22 Apr, 2006:




wow,it looks incredible.
im just started to learn blender on the mac.
the power of a open cours and the people behind it is great.
lots of respect
benni
belgium



oil fragrance

said on 23 Apr, 2006:




good article i like it…Blue Diamonds



Tom

said on 2 May, 2006:




This web-site is the coolest! Now I dont have to feel so intimated by science! Youre a genius! I think Ill visit this site often.



bingo

said on 3 May, 2006:




Collective Intellect.- A good author possesses not only his only intellect, but also that of his friends.



free bingo

said on 3 May, 2006:




Chain-Thinkers.- To him who has though a great deal, every new thought that he hears or reads at once assumes the form of a chain.



hgh

said on 4 May, 2006:




Poets treat their experiences shamelessly: they exploit them.



human growth hormone

said on 4 May, 2006:




The will to overcome an affect is ultimately only the will of another, or of several other, affects.



maxaman

said on 4 May, 2006:




In such a highly developed humanity as the present, each individual naturally has access to many talents. Each has an inborn talent, but only in a few is that degree of toughness, endurance, and energy born and trained that he really becomes a talent, bec



extender

said on 6 May, 2006:




It is terrible to die of thirst in the ocean. Do you have to salt your truth so heavily that it does not even-quench thirst any more?



vimax extender

said on 6 May, 2006:




Iron necessity.- Iron necessity is a thing which has been found, in the course of history, to be neither iron nor necessary.



www3

said on 8 May, 2006:




I am really impressed 8)



www

said on 8 May, 2006:




Hey, I am really surprised 8)



enzyte

said on 11 May, 2006:




Top notch site, I really enjoyed reading !



ウリオル » Blog Archive » Elephants Dream

said on 16 May, 2006:




[…] Llegeixo a Barrapunto que el dia 24 de Març es presentarà la primera pel·lícula d'animació amb llicència Creative Commons. Des de la pàgina web del projecte es pot baixar un video promocional d'aquesta amb una ressolució bastant bona. […]



blud

said on 18 May, 2006:




Hi Guys!! did marijuana help U to create this movie??? Anyway, I say you congratulations!! Even if I didn't again see your movie but just because U are the first to make an open movie with an open soft… Keep enjoying.. "Amsterdam est la terre d'accueil de beaucoup de francais en manque de shits, c'est bon de savoir que ca l'est aussi pour de bonnes causes" Bye..



:: Jeff Milner dot Com :: » Blog Archive » Elephants Dream

said on 19 May, 2006:




[…] I haven't watched it, but the Elephants Dream teaser is intriguing. […]



oskar

said on 20 May, 2006:




Excellent work. Love the idea! This got me started with Blender. But i cant get the project files to work :/ they render funny.



paulo

said on 18 Jul, 2006:




Eu não sou da área de design gráfico 3d mas o que me chamou muito a atenção é o fato dessa nova versão ter surgido em conseqüência do desenvolvimento do Elephants Dream, primeiro filme de "código livre" do mundo .



tridiguanaco.com » Blender 2.42

said on 25 Jul, 2006:




[…] Después de que terminó Elephants Dream, corto animado hecho por profesionales para demostrar las capacidades de blender, el programa ha tenido una gran actualización, desde el mejoramiento de herramientas de modelado hasta su propio editor de video no lineal. En este sitio encontrarán un detalle de todo lo que actualizaron. July 25th, 2006 | Category: misceláneos | […]



Readers Edition » Ist Linux reif für den Massenmarkt?

said on 28 Jul, 2006:




[…] Die Zukunft von Linux bzw. die Frage des Betriebssystems der Wahl hängt u.a. davon ab, was Linux in Zukunft Kreativen anzubieten hat. Im Moment bevorzugen Kreative mehrheitlich Apple-Rechner mit Mac OS X (Macs). Macs stehen in fast jedem Design-Büro - und die Programme definieren den Standard für den Austausch. Linux hat aber bewiesen, dass es mit Fimproduktionen wie Elephants Dream (vom Orange-Projekt) durchaus in der oberen Liga professioneller Anwendungen mitspielen kann. Anwendungen wie CinePaint (unterstützt 32 Bit Farbtiefe im Vergleich zu 16 Bit bei Photoshop) werden von vielen Hollywood-Studios unterstützt und bei neuen Filmproduktionen eingesetzt. […]



Leave a Reply